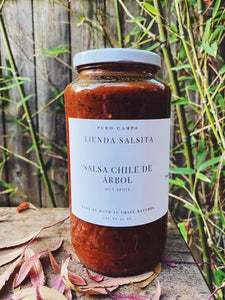 Large jars for the salsa lovers. This is the original Salsita and the beginning of our salsa journey. Toasted chile de árbol and sweet summer tomatoes make a perfectly balanced salsa with a quick, high heat. This recipe was given to our founder by her Tia Nella in Guadalajara where she learned to make salsa in a molcajete. 
Hot spice
Ingredients: Tomatoes, Chile, Lime Juice, Garlic, Salt
Handmade in small batches. Consume within 2-3 weeks of opening. Ships anywhere in the US.32 oz.