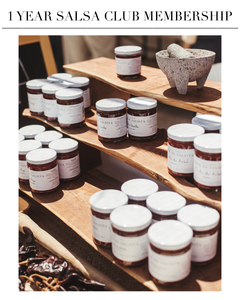 Give the gift that keeps on giving!
1 year SEASONAL SALSA CLUB
Give this one year seasonal salsa club membership. You gift recipient will receive 4 quarterly shipments of a variety of salsas throughout the year to enjoy with friends and family. Every shipment will include seasonal recipes, stories about the salsas, and sometimes a surprise trinket from our travels in Mexico. 
Are you looking to find a gift for someone who is passionate about salsa, food, cooking, and gathering? 
We have created this year long subscription box so that there is always a jar of salsa on hand because we believe that salsa should be on every table, no matter what kind of cuisine is being sharing. Our club members will be the first to receive recipes, new and seasonal products, and special access to yearly salsa tastings or events. We hope that you give the gift of our 1 YEAR SALSA CLUB MEMBERSHIP.
QUARTERLY DELIVERY. *Local pickup is not available for the GIFT SUBSCRIPTION
$180 value Three Pack Salsa Club $165/year - $360 Value Six Pack Salsa Club $305/year
10% discount on salsas for the 3 pack club, and 15% for the 6 pack club 

Seasonal Recipes

Exclusive seasonal salsas and moles

Special trinkets from our travels in Mexico

Stories on the salsas, chiles, and what is inspiring at Tienda Salsita
​
Each shipment will feature three distinct salsas (or other seasonal products).
They will be shipped seasonally with a special holiday pack. Fall, Holiday, Spring, and Summer. 

Customers are charged once for the gift and there will be NO reoccurring charges. 

Shipping is not included in the cost of the CLUB and is calculated for 4 shipments at checkout with your subscription. Shipping is calculated for at $49.98(for the year/all shipments) for all members.

For cancellations please see our FAQ page.